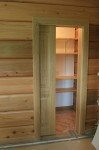 From an early stage in the design of the house it was apparent that a larder would create a lot of storage space in an otherwise smallish kitchen for things like bread makers, food mixers, foodstuff etc. Also, using up a small corner cut out of the utility room it would not cost much in terms of space. The sliding door works well, saving space in front of the larder.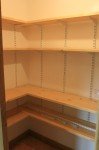 With inexpensive racking from www.screwfix.co.uk and some surplus joist material, the larder cost very little to make. The tiles on the floor were reduced from £30 per square metre to £10 from Porcelanosa. The joist material was taken to the local joinery shop and planned down from 2″ to about 1.25″, a round edge routered on the outside face, and the lower two shelves had an extra bit added to make them deep enough to take electrical appliances.
We left out the shelving to the right of the sliding door to leave space for the central vacuum hose, a brush and other tall items.