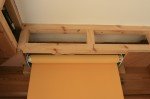 We have two big sliding glass doors and decided to go for motorised blinds to cover them and two other windows, with a hand held remote for their operation. We scoured the internet for possible suppliers but found that a lot of suppliers were franchises or agents and we wanted to work direct with a company that could supply them for us to fit, as there would be lots of boxing in with Western Red Cedar to conceal them.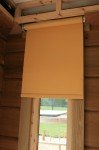 We found a company on the web called Trade Blinds Direct, who said they installed blinds and could supply us with what we needed and provide any technical help we needed. Well with the usual instruction sheet in 10 different languages for the motor but with mounting brackets totally different to the motor manufacturers drawing, we ended up needing technical help. At this point we got put on to the manufacturers UK agents direct (Somfy) who could not have been more helpful, but over 30 e-mails with Trade Blinds Direct failed to resolve who would provide a replacement motor due to an installation problem with the non standard brackets which wrecked one of the motors.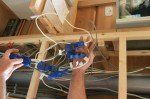 Life's too short and for just over £100 the helpful people at Somfy UK supplied a replacement motor, but I have to say Trade Blinds Direct are one of the few suppliers we have used that I would not recommend.