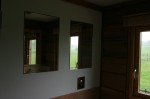 When planning our house we got a lot of ideas from magazines, TV etc, but this one came from an old family friend who had bathroom cupboards that were sunk into the stud wall and had mirrors as doors. So we made MDF carcasses to fit into the stud wall with flat MDF doors, and faced them with mirrors. The MDF parts were spray painted, glass shelves fitted with stainless steel shelf pegs into holes pre-drilled in the MDF.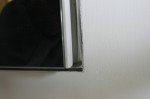 Stainless steel beading from our local Travis Perkins builders merchant was used to get a tidy finish against the plastered surround. You can see this in the detail shot here.
We made 4 cupboards, two in each bathroom and I guess we did not get any change from £1000 for the four but they do a nice job and keep the room lines very clean.