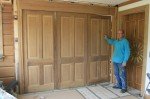 We have had three custom built iroko doors made to divide the kitchen diner from the louge. In normal use there is a single door at the right hand end that can be opened on it's own. The sun door behind our joiner is a story or two for another day.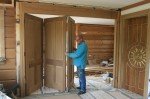 By dropping two catches the three doors can be folded right back until they are flat against the wall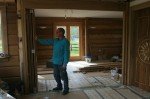 So then you can see all the way from one end of the house to the other. We have had the top panels on the doors made in wood for now, but they are removable if we feel we want glass in them instead, patterned, plain or whatever. The advice was to live with them first for a while and see how often they are open and how often closed.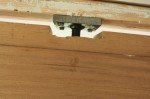 Of course with a log house nothing is straightforward as you constantly have to work compensation for settlement into your design. So the head of the doors "floats" verticallyon five steel posts that are fixed to the upper head and a generous inch has been left for the upper head to settle down towards the main head. This main head had to be made from two bits of iroko as 9″ wide was the maximum width our door maker could source.